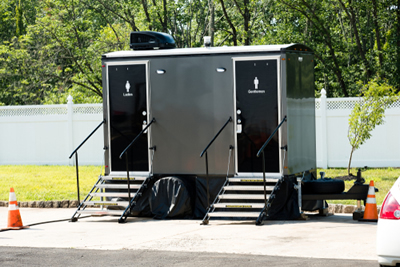 Luxury Porta Potties
Porta potties are mobile bathrooms. A luxury trailer porta potty is, therefore, a large luxurious mobile trailer that resembles a normal executive restroom. It is more or less similar to your private restroom. These porta potties have several features that make them tower above all the other options. They are mostly referred to as luxury, VIP, or wedding restroom trailers since they mainly serve high-end clients. Therefore, renting one is often pricier than all the other options.
They are well suited for corporate and other high-end events. Let's take a look at all the features that you should expect when you rent one.
#1 – Flushing toilets
The luxury trailer porta potty is equipped with a fully functional flushable toilet thanks to the ever-running water. They are way better than the standard units which lack any flushing toilets. Guests should also expect a fully functional sink and a handwashing station.
#2 – Design
These units spew luxury. They have a modern interior that resembles the contemporary washroom. Users get a counter space where they can leave some of their belonging as they ease themselves or place their grooming kits. These bathrooms are built to offer users a homely and luxurious experience. The spacing is also graceful for comfortable use and feel. Some of these restrooms come as private units, while others have as many as ten bathrooms in one trailer.
#3 – Lighting
Your restroom must be adequately lit if you want to host a party overnight. These trailers, therefore, have proper lighting powered by reliable energy sources. You don't have to worry about blackouts. Their design allows in natural light, which is necessary during the day. You can imagine how attending a dark toilet feels. The natural lighting features, therefore, ensure that you are comfortable and at ease.
#4 – Urinals
One advantage that users get is a fully functional urinal if they wish to take a short call. These are kept clean thanks to the self-flushing feature. All the highlights in these units will, therefore, leave you feeling like a king.
#5 – Hand washing stations
These units have electric hand washing stations, equipped with the latest technologies. You can expect automatic taps and fully functional hand driers. These stations are beautifully designed with crystal chandelier lighting hanging close to them.
#6 – Size
It goes unsaid that these units are larger than most, if not all, options. They usually have a width of eight feet and above. The depth begins from 12 feet while height 10 feet. The holding tank capacity measures 500 gallons or more but varies with the product choice, just like all the other measurements.
Optional features
Some units also come with aloe hand soaps, hand sanitizers, 2-ply toilets paper products, and individually wrapped mints. You can also direct the company to include other additional amenities that you might need.
Events
These portable units serve high-end guests who expect clean and comfortable toilet services. They are therefore suited for weddings, corporate events, TV or film production, and other high-end events. Do not, therefore, fail to contact us if you need porta potty services in Chicago and its environs.