Deluxe Porta Potties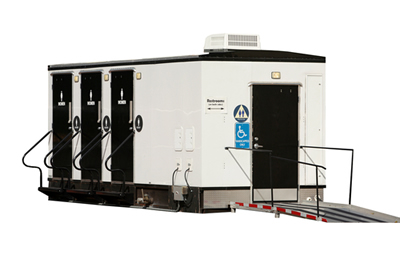 Each event is unique, each has different needs, and no matter how large or intimate your gathering is, all need a place for their bathroom business. It used to taboo, to talk anything about one's bathroom business but with today's innovative deluxe porta potty technology, they can be seen popping up in large events such as corporate events, big family reunions, or a fairytale wedding in a castle – and the reactions are always the same, "wow! This looks like a real bathroom!"
When you invite guests to your event, they all expect to treated well; a deluxe porta potty isn't your typical plastic-looking diaster. The majority of deluxe porta-potties are fully functional, they offer supreme ambient comfort, complete with amenities such as soap dispensers, fully stock cabinets, mirrors, running hot water, and sometimes even a separate room for changing, babies, persons with disabilities, or a shower.
5 Factors To Look For In Your Deluxe Porta Potty
#1 – Reputation & Location
As with any business, the years of service indicate the years of success they've had. A better way to determine for yourself the quality they provide is looking up reviews on Google about the company, their services, their staff, and so on – the pros must always outweigh the cons. You are looking for a business that has a reputation for providing durable, high-quality units and great customer service.
The location of this business must be near your event, the last thing you want to experience is to spend a fortune on transporting your deluxe restrooms to your location.d
#2 – Self-Contained
Most portable restrooms require a water supply and electrical power. It is important to get deluxe units that are self-contained meaning they not only have a high capacity of water on board but they have solar-panels, allowing them to function without the help of an outlet.
#3 – Right Size
There are single unit deluxe porta-potties and there are units that have multiple porta-potties. To find out how many units or the right size you will need, please follow this formula.
hours / largest possible attendance x 10 = total.
And you add 15%-25% more if alcohol is part of the itinerary.
Example:
120 minutes (2 hours) divided by 200 people x 10 = 6 units.
#4 – High-End Features
When your deluxe porta potty comes beautiful beveled mirrors, recessed lighting, gorgeous countertops, cabinets, and air conditioning.
When your guests shut the door of their own luxury restroom, the first thing you want for them to do is smile. The smile means they feel comfortable, they feel respected, and they feel safe – all thanks to you.
#5 – Durability & Low-Maintenance
Renting a deluxe restroom means not have to maintain high maintenance needs. When you browse through deluxe portable restrooms, ensure that every single surface, nook, cranny, and corner is super easy to clean, can be wiped clean fast and reachable.
When choosing your deluxe porta potty, please look closely at its materials, finishes, and fittings. Look for high-quality hinges meaning lots of screws attached to the panel. Ensure that the faucets all use commercial grade plating and vales with well-made electronic panels. All of these add to the longevity and quality of your deluxe restroom.
Inquire Now
Are you looking for deluxe porta-potties for your next event in Chicago? A company whose reputation values customer-satisfaction? A company whose philosophy is top quality always? Then, we are what you are looking for you; all of our deluxe porta-potties are ADA compliant and offer a wide range of options for all your needs from attendants, management, customer service, air conditioning, and much more.