Chicago is a city that has many places you have to visit but there are some that you should not forget to know, the first on the list is 360 Chicago Observation Deck. If it's ever happened to you that you've been to a city and wished you could have a full view of it, in Chicago this won't happen to you.
Ideally located in the center of the city, right at 875 N. Michigan Avenue, on the corner of Michigan Avenue and Delaware Place, right on top of the famous Magnificent Mile you'll find 360 Chicago Deck Observation, a viewpoint about 314 meters high. This height will allow you to have a complete view of the whole city, in addition, if the weather is in your favor you will be able to see up to 80 kilometers away.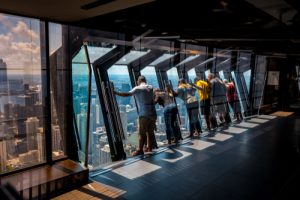 For a city with incredible architecture and an unparalleled urban landscape, the existence of an observatory is more than we can ask for. Once you're at the top, the view you'll find will be unforgettable, you'll see the explosion of color through the landscape that makes up the city, combined with the bright blue of Lake Michigan and the sky, is definitely a work to admire.
TILT experience, an unforgettable memory.
If you want to see the city from every angle, the TILT experience is for you. It's a full-body window that will slowly tilt over the city, at a 30-degree angle that will allow you to see what's underneath as well. If you think it will be an adventure full of vertigo, you are not mistaken but we assure you that this experience will be unforgettable. The capacity of this window is for eight people, so you can enjoy it in the company of your family.
What can I do at 360 Chicago Observation Deck?
Get to know Chicago and four other USA from one from the 94th floor of one of the tallest buildings in North America.
Learn more about the history of this place through the high-definition touchscreens found there.
Climb more than 310 meters using one of the fastest elevators, taking just 40 seconds to drop you off on the 94th floor.
Experience the TILT experience and take a look at the learning experience.
Right on the observation deck, you will find Architect's Corner Café and Bar, you can enjoy a drink, a coffee or a snack after your visit
One last piece of advice.
As such an amazing place, many visitors receive, so ideally you plan your visit. Try to arrive before 10:00 to avoid the crowd, before you leave home to take a look at how the weather will be so you're sure it's going to be a clear day and finally remember that the number of people who go up will also have to go down, so plan your return before everyone so you don't wait that long to be able to get off. Enjoy your visit a lot, take the photos you want, and live the best experience in Chicago.
---